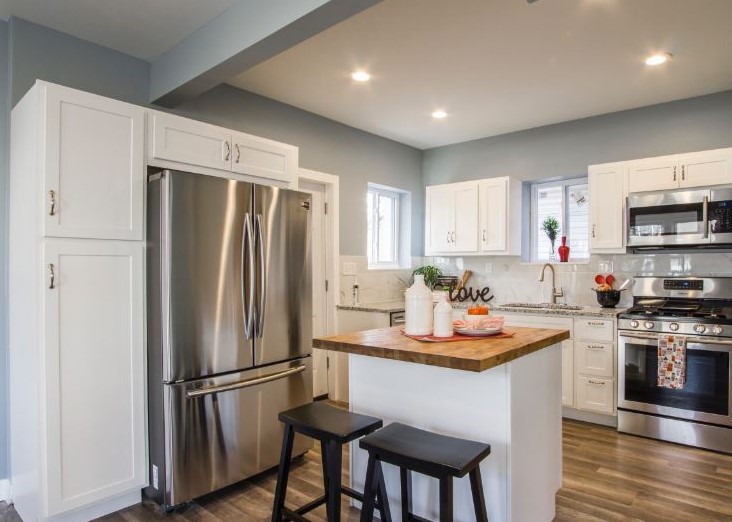 Being inside our homes during the pandemic gave us time to see all that needs to be done to our homes.
If you are tired of looking at the same drab walls, change the ambiance of your home's interior with a fresh new coat of interior paint. Your interior walls, ceilings, and baseboards DYI project from years ago is showing the paint misses, drips and uneven trim have currently come to the surface and are bothersome. We know the products to use and the quality of using a professional interior painter is a HUGE asset to help set the stage for summer and beyond! Most jobs are done within 1 to 3 days (depending on if whole home interior paint is done or just a few rooms) and guaranteed to brighten your spirit!
Have you heard of LVP? Luxury Vinyl Plank flooring is all the rage! Color variety, texture and available styles are sure to create dynamic statements to every room! It is scratch resistant, moisture resistant, and with one whisk of a damp mop, it cleans up like a champ.
Our professional decorator assists you with your selections to complement your décor. Your paint choices can help to define spaces with featured interior walls. We provide invaluable ideas and advice free of charge!
Affordable, high quality and customizable interior and exterior painting and flooring updates by a professional remodeling contractor! Contact R Contracting Services today at 770 294 6455 or email us at rcontractingservices@gmail.com  for your free consultation today!
R Contracting Services – Creating curb appeal to Metro Atlanta homes for over 30 years!
R Contracting Services is a professional licensed and insured Georgia General Contractor Serving:  Grayson, Lawrenceville, Snellville, Loganville, Dunwoody, Sandy Springs, Roswell, Buckhead, Johns Creek, Milton